Enable data-driven decisions in every aspect of your marketing.

Ben and Darren are amazing!! They're always super helpful and understanding. They've made my medical website design soooo much better than before!

Darren & Ben both communicated with us throughout the entire process of creating our Real Estate Website Design & overall we are pleased with Web Buzz.

If you're after an SEO agency, the team at Webbuzz have been great. They've helped us increase our SEO leads and conversions over the 18 months we've been with them.
Data analytics for

digital transformation
Marketing analytics is the process of analysing the data your marketing efforts generate. The insights gained from this analysis helps[MC1] organisations to create new campaigns and tweak existing ones. The goal is to use these insights to improve the customer experience while crafting campaigns that deliver an improved return on investment (ROI).
Data is critical to the success of your digital transformation.
According to a report from PricewaterhouseCoopers, companies that leverage marketing data are three times more likely to make intelligent business decisions than those that don't.
By becoming more familiar with marketing analytics, you gain access to the knowledge and insights that drive business growth.
These insights come from multiple sources:
By combining the data from these sources, your business can take a data-driven approach to its digital transformation. You will equip yourself with the knowledge and tools required to better serve your audience.
Why marketing data analytics

is so important
Work with an agency that understands both the risks and the rewards of data analytics.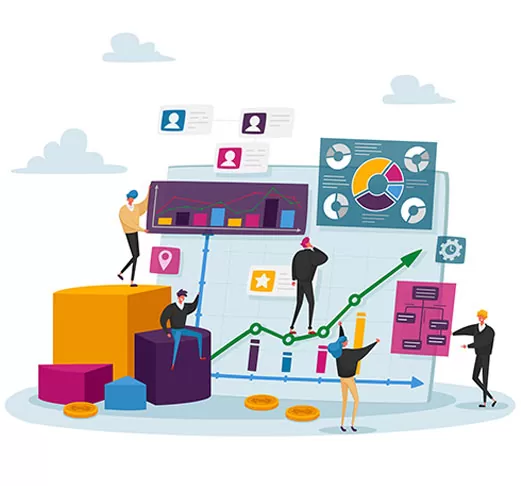 What does marketing data analytics tell you?
With the right data, you can answer critical questions about your business, its customers, and your approach to digital transformation.
Those questions may include:
And perhaps the most important question of all:
Without data analytics, your business is like a ship lacking navigational equipment. It will keep moving, but you will have no idea if it's going in the right direction. Data is the key to understanding your customers and developing digital marketing strategies that take prospects from awareness to purchasing.
Understand the role of AI in Data Analytics.
To demonstrate what's possible with new and emerging technology, Webbuzz produced this video with 100% by Artificial Intelligence (A.I). Contact us to learn how we did it. 
Quantitative data

vs qualitative data
There are two types of marketing data analytics you can leverage as part of your company's digital transformation:
Each plays a different role and requires varying tools for you to make the most out of your data.
Quantitative data is any data that you collect that comes in a measurable form. Numerical data is the best example of this type of data.
For example, the numbers Google Analytics delivers tell you how many people visit your website, your bounce rate, and many other useful pieces of measurable data that you can use to develop key performance indicators (KPIs).
Quantitative datatells you what is happening, when it's happening, and to some extent how it's happening.
Your business can use such 'hard data' to make informed decisions relating to strategies and tactics currently employed. There are plenty of sources of quantitative data:
Qualitative data isn't number-based, making it more difficult to collate and track. However it can be incredibly valuable, because it often provides insights that are simply not possible to draw from quantitative data. Specifically, it is better able to explain why customers are behaving a certain way.
Qualitative data incorporates information, including opinions, motivations, and pain points that relate to your ideal customer. Words, pictures, photographs, video and many actions fall under this banner.
The lack of statistics means a data analytics agency must structure this type of data into usable groups and themes. Qualitative data tends to come from the following sources:
Webbuzz leverages several useful tools when using qualitative data for marketing data analytics. These tools include Hotjar, which provides product experience insights, behaviour analytics, and feedback to help you understand your customers.
What our clients
are saying

We have just completed a major rebuild of our website with Darren & Ben, I can't express how happy we are with the new site, the whole process was painless, the "boys" explained everything in plain English. I would have no hesitation in recommending WebBuzz if you are considering web development and digital marketing.

Darren, Ben and the team at Webbuzz helped with my startup businesses Website Design, Concept, CRM Set Up, Lead Capture, Digital Marketing strategy amongst a number of other projects! It took all the stress off me as a Business owner and I was able to drive some serious growth from day 1 without having to rely on referrals from Centres of Influence etc. I'm continuing use of the services to help grow and scale my business. Highly recommended!
More about digital strategy