If you are taking care of your Facebook ads for your business or you are in charge of your company's paid ads campaign, then there's a big chance that you are already aware of the iOS 14 Facebook Ads changes.
And perhaps, just like most marketers these days, you are also worried that this will be the end of an era – when Facebook ads used to attract tons of potential customers.
Here at WebBuzz, we've been monitoring the situation to prepare our Facebook lead generation campaigns for our clients. We've found out that the current shift (while drastic) is not entirely hopeless.
In this blog, we'll help you understand the changes brought by iOS 14 and guide you on the specific steps you need to take to adjust your Facebook campaigns.
What is iOS 14?
At a glance, iOS 14 is the latest operating system for iPhones.
Aside from redesigns and a bunch of new emojis, the most crucial feature of this update is the privacy enhancement that limits how apps receive and process data.
When you upgrade to the new iOS, the system will automatically opt you out from mobile apps that track your data.
Then it will display a prompt asking permission to track your activities.
When your customers opt-out from Facebook tracking, Facebook can still see their behaviour within the app such as the posts they clicked and the videos they watched.
But if a user clicks on your ad that redirects to your website, the Facebook pixel will not be able to track that person on your site.
Your conversion tracking will not work like it used to, so it is now impossible to retarget them on Facebook based on website visits.
What is the Impact of iOS 14 on Australian Advertisers?
Well, not that much if most iPhone users opt back in to allow tracking.
Before the rollout, advertising analysts predicted that around 15% of iPhone users would opt-in.
But recent data revealed that only 4% of iPhone users in the US agreed to be tracked.
While similar data is not yet available for Australian users, the figure is estimated to be within range.
With 54% Apple users in Australia, the low opt-in rate will take a massive chunk from advertisers using mobile apps for marketing.
What Platforms Are Affected by iOS 14?
Facebook is taking the biggest hit by this change, and that's why it is vocal about the update.
The social media giant ran a full-page ad in The Washington Post, The New York Times, and The Wall Street Journal calling Apple's new system a "threat to the free internet".
But aside from Facebook, other mobile apps that are tracking data to show ads to iPhone users will be affected.
What Can I Do to Limit the Impact of iOS 14 on My Facebook Ads?
To reduce the impact of iOS 14 on your campaigns, you need to implement urgent changes to your business account settings.
Facebook recently rolled out the Resource Center to help advertisers complete tasks that can help them address the changes.
So visit your Facebook Ads Manager, and go to Resource Center Tab.

Under the Resource Center, you need to complete two tasks:
Review Pixels
Verify Domains
Just click Review Pixels, and it will redirect you to the Events Manager.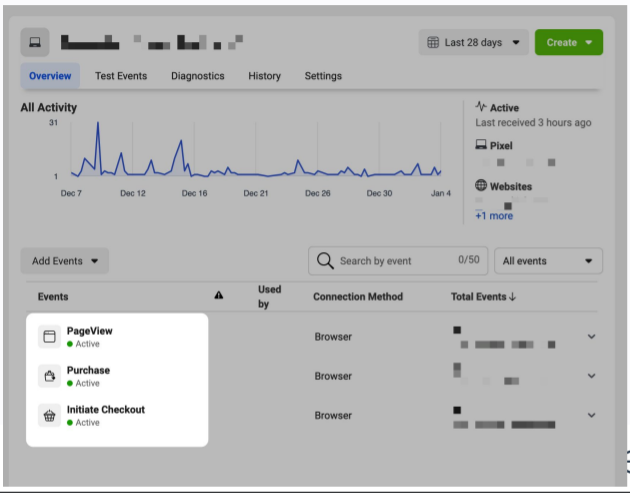 In the Events Manager, you need to count how many events are listed in your Pixel.
Ideally, you need to have a maximum of 8 events. If you have nine or more, then you need to decide which ones you want to keep.
The second task is verifying your website domain: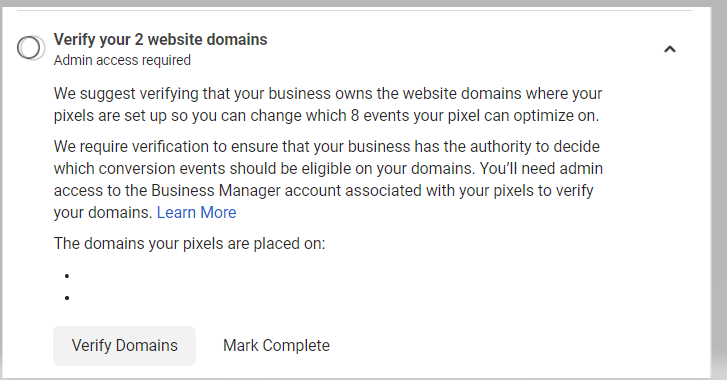 Just click the Verify Domains button, and it will redirect you to the Domains Tab of your Facebook Business Settings so you can start the verification process.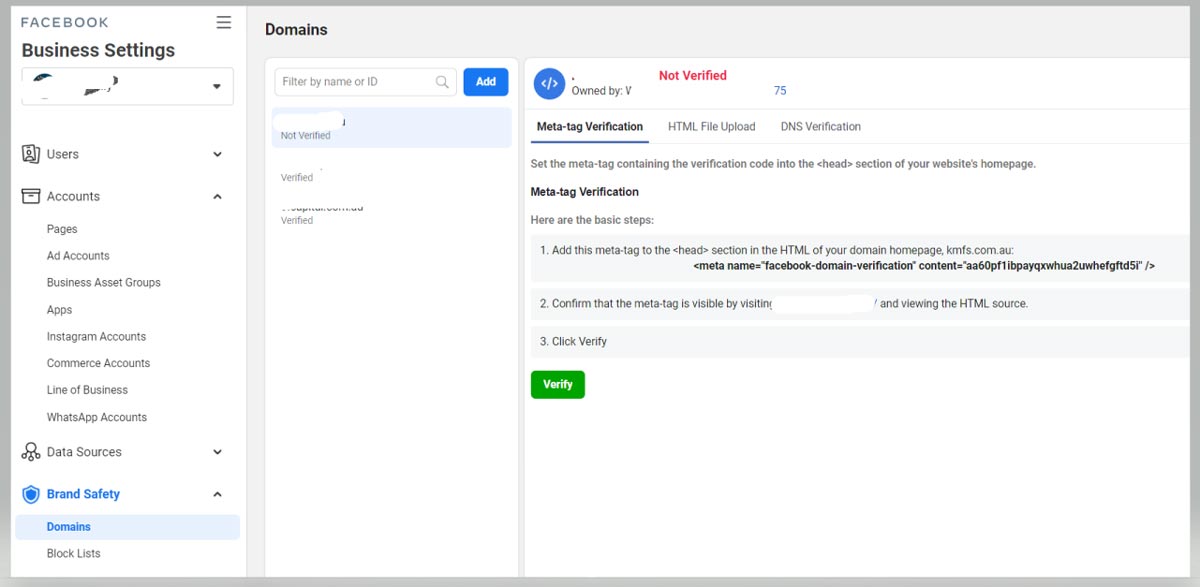 Just follow the
Follow the guided process to verify that it is your domain.
Are There Alternative Advertising Channels?
Wealthify is our agencies' lead generation business. There we use Facebook Ads to generate financial and mortgage leads for our clients.
But we use a multi-channel approach, so we are not dependent on Facebook alone.
Aside from Facebook, we also use Google Search Ads, which are fortunately not directly affected by the iOS update.
This strategy helps us generate leads with high-search intent, which means they have a higher probability of converting into paying customers.
Conclusion
Apple is a significant player in digital marketing, and its recent update currently shapes the internet.
On the good side, it gives people control over their data and pushes marketers to present relevant and meaningful content.
This big shift in the ads ecosystem will make it a bit hard for online advertisers, but it's not a hopeless scenario.
Reviewing your online advertising strategy, developing content that resonates well with your audience, and protecting your customer's data are some of the critical things you should implement in light of these changes.
Whatever your industry, WebBuzz can help you conceptualise your ads that your target customers will love.