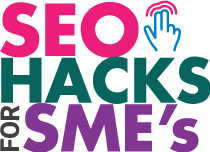 Welcome to our video series on useful SEO tips that any small business can implement.
To receive these small business SEO tips in your inbox every two weeks, subscribe below.
Welcome to our video series on useful SEO tips that any small business can implement.
To receive these small business SEO tips in your inbox every two weeks, subscribe below.
Video Transcription
Want to rank on page 1 of Google? It's virtually impossible with bad SEO page titles. Unless your web developer really understands how SEO works, it's likely your website pages are named all wrong!
I'm Ben Carew, the co-host 'SEO Hacks for SME's'. In this video I'll share 3 hot tips for better page titles – so you can start to win on Google.
Some background first: Website Page titles are a key bit of meta data that search engines like Google use to rank web pages. You can see them as the bolded text in the Google SERPs…
Here's a couple of great things you need to know about website page titles:
They're super easy to fix,

They can boost your SEO – fast. 
The reason? A good page title can increase your 'click through rate' (CTR), which is a positive signal back to the Google algorithm.
Page titles also indicate to Google what keywords you want to rank for. In an earlier SEO hack we looked at seo keywords. One of the key requirements for effective seo is that each website page has a 'target keyword'. Which brings us to:
Tip #1 – Place the target keyword at the start of the page title
For example, let's say you're a real estate agency based in the Melbourne CBD, and your brand name is John Smith Property.  Currently your page title is 'John Smith Property – Home Page'
That's a terrible page title – it is only targeting 'branded traffic' and it still includes the page descriptor the web developer used to build the page. This page will never rank well.
But it's not uncommon for cheap or lazy seo consultants to ignore such obvious issues. Often they'll just start building backlinks so they can bill you each month.
Naughty. Naughty.
In fact, getting the page titles right is the very first thing an Australian SEO company should do for you.
Now let's say you've sacked your old seo agency, and have decided your target keyword for the home page page is 'real estate agent Melbourne'
A good way to write your new page title would be; Real Estate Agent Melbourne – John Smith Property
See how the target keyword is at the start? SEO studies have shown there is a correlation between higher rank on Google and page titles with the target keyword earlier in the page title.
Tip #2 – Use numbers or percentages.
Remember, users will see you page title amongst hundreds of others in the Search Engine Results Pages. So to stand out, it often helps to add numbers or percentages.
Returning to our real estate example, an even better way to write the page title is:
#1 Real Estate Agent Melbourne 3000- John Smith Property
See how that immediately 'pops' more?
OK so now let's move to the third and final tip…
Tip #3: Use brackets in your page title, where appropriate.
In one study Outbrain and Hubspot teamed up to analyze more than 3.3 million paid headlines. They found that titles with [brackets] and (parentheses) got 38% more clicks than titles without brackets and parentheses.
This can be especially useful for blog posts and pages where you want to highlight some content, or a special offer.
For instance, an agent might have an educational video for vendors on how to sell real estate for the best price. An ideal page title would be:
[VIDEO] Agent Reveals How To Sell A House In Melbourne For 20% More
The target keyword here is 'sell a house in Melbourne'. You can see here we're using brackets, caps, and percentages to make the page title as alluring as possible.
OK so hopefully that's shown you how to create an seo keyword list for your business..
If you have any questions, leave a comment below.
And if you want to get more SEO hacks delivered to your inbox, subscribe on the link.