More than 2.9 million blog posts were published just today.
There has been an explosion of content – some call it "content shock" –  and it is not easy to ensure that your message will be heard by the right audience. And while we see increased competition in the blogosphere, click through rates on display ads are woeful and will continually decrease over time.
In this environment, adding video marketing to your content strategy may help you stand out.
Around 72% of businesses say video has increased their conversion rate. And roughly two years from now, video traffic will account for 82% of all traffic on the internet.
It's clear – video marketing is the future. But how effective is it really? Here are some other statistics collated from many different marketing studies on the topic:
Here are the top three reasons why you should invest in video marketing:
Top Three Reasons Why You Should Include Video in Your Marketing Strategy
1.  To Reach A New Audience
Many Australian companies don't see video marketing as a necessity. That is understandable. Traditional video production requires time, money, and effort. Most of your competitors all have a blog, email marketing, or social media presence, but many of them are not using videos.
So, why bother right?
Because  you might miss out a huge chunk of the potential new audience. Around 5 billion videos are being watched every day on YouTube with an average mobile viewing time of 40 minutes.
You may have seen the short film released by Gillette:
Sure, Gillette is already a household name, but it has been struggling with unifying its brand message that conveys a single clear point. It has been losing the social media war against a much smaller company, The Dollar Shave Club.
Gilette used video marketing as a platform to stir up emotions that effectively unified their whole advertising message. It served to successfully position Gillette as a transcendent brand identity. Currently the video has 25 million views on YouTube. If Gillette's goal in creating the video was to create buzz, it has succeeded. And with 52% of consumers saying that they are more confident in buying after watching videos, we can expect a surge in Gillette sales this quarter.
As Australian consumers increasingly get information through video, it makes sense to present your brand with an appealing, interesting, or informative video. As Google places more importance on using videos (with the introduction of video carousels in the search results) and Australians consuming more videos, consider it wise to add video content into your marketing plan to stay ahead of your competitors.
2. Provide Valuable Information
Bounce rates increase when your visitors land on your website and can't immediately figure out what you do. When our client, fintech startup Retirement Essentials launched, their business service was fairly foreign to Australians.
Because an Age Pension and financial plannning service was an unusual offering, WebBuzz recommended including an explainer video on their landing page to show exactly how their service worked.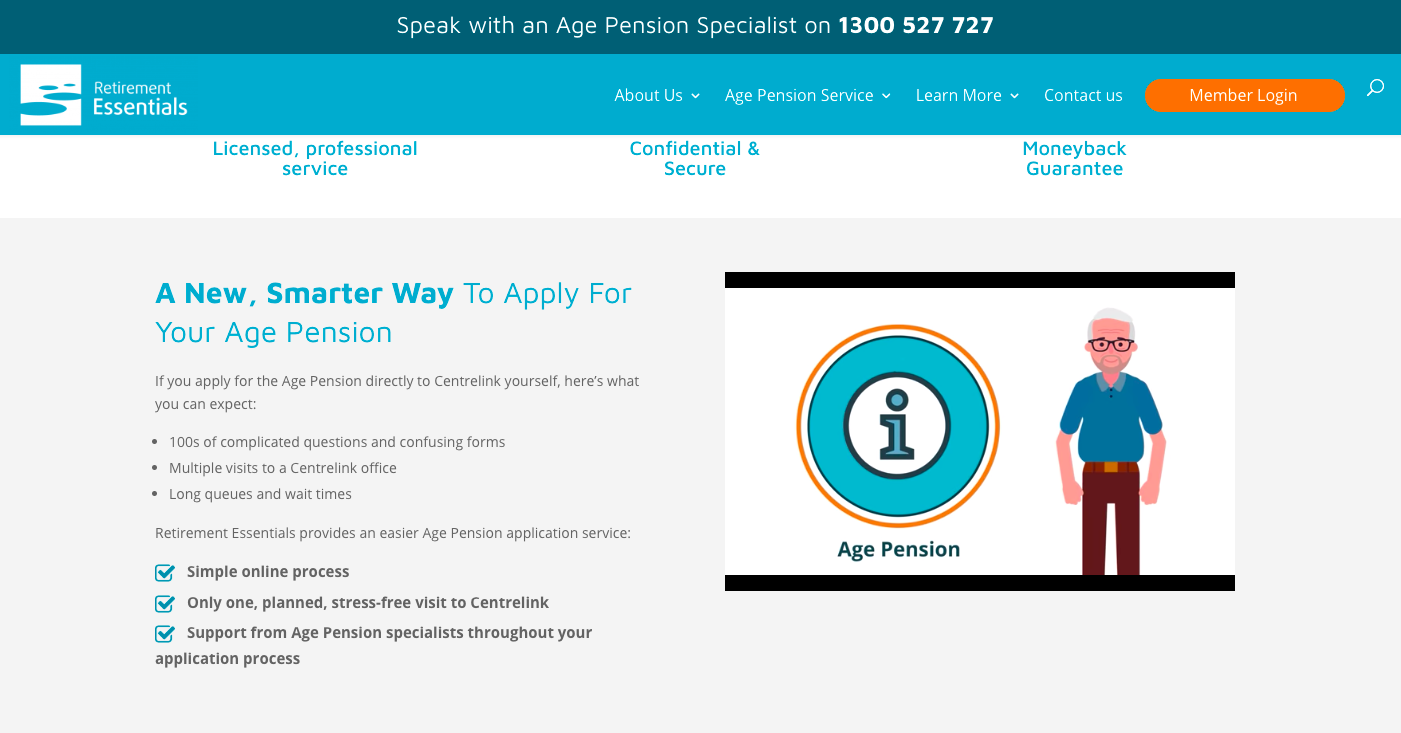 This video significantly increased Retirement Essentials' conversion rate.  Numerous studies have shown that adding a video to your landing page can boost your conversion as much as 80%.
You need to make sure that your website clearly explains the problem you are addressing and the solutions you are offering. And video can most efficiently perform this function whilst at the same time providing Google with the kind of positive user experience signals that are increasingly being used as part of its ranking algorithm.
So ditch the long, boring essay about your service. Insert an explainer video instead!
3. Conversion
Video is a remarkable medium which can convey a message, but also convert viewers into customers. However, if the message is not interesting, producing and publishing the video will be a waste of resources.
The lamb ad of Meat and Livestock Australia (MLA) is a great example of a creative video that stirs the interest of its target market. Instead of focusing on the greatness of its meat, the ad captures the essence of Australia as the best spot for a barbie.
The message here? Aside from pure information or focusing squarely on sales, try to make your video more entertaining. If you can increase audience engagement with your video and resonate with your target audience, conversions will follow.  Your viewer will become more engaged and will stick around to learn more about your business if your message is interesting.
The Key Components of Effective Video Marketing
In any marketing strategy be clear on what problem are you trying to solve. Your video content should be part of a smart strategy that will increase brand awareness, guide your customers on how to use your product or service, and bring more sales to your business.
What are the best things to focus on to make more effective videos? 
1. Quality Content
Successful videos are quality videos.
Your video should provide value to your users.
An effective video marketing strategy combines great ideas and great execution.
Video content with bad visual or sound quality may leave a bad impression and will not position you as a leader in your industry.
If you don't have the resources to produce quality video but you want to take advantage of the opportunity, you may choose to outsource your web marketing services.
2. Cross Channel Promotion
Once video production is out of the way, how do you get more video views? And is the end goal to attract more views anyway? Ideally you want your videos to drive traffic back to your website and generate new leads for your business. Obviously none of this will happen without first getting viewers.
The best way to avoid this catch-22 is to come up with a plan to promote your content, and not just video. Use a project planning tool like Trello to map out the sites that you want to post on when your video goes live. And follow it every single time.
Even before you start your production, you need to devise how can you leverage the video through cross-channel promotion. Also bear in mind that not all video content is suitable for all marketing channels. Think about how you can use your current database, linkedin network or platform in promoting your content.
Can you post the video on a key website page or on YouTube? Can you post it to both?
Cross-promoting content, or making your videos shareable can amplify your message and increase brand awareness. Email marketing is a great way of using your existing audience to promote your video.
Adding a video to your email will get your message across easily and can fortify your call to action. Use the word "VIDEO" somewhere in your subject line to boost your click-through rate.

Make sure that your videos are mobile friendly. YouTube has revealed that mobile video consumption is growing by 100% year on year.
3. Measure Results
Once video production and marketing is complete, it's time to look at the metrics of results. How will you know if your video marketing is effective without measuring things? How will you know if you need to change your strategy or use other channels to grow your business? Answer: without measuring performance you won't.
Here are some key metrics to look out for:
Cost of video production (money, time, and effort)
Increase in brand awareness or increase in sales
Number of views or 'engagement' signals
Direct web traffic from the video
Video click through rate
Set up and monitor these metrics as you execute your video marketing strategy. Video platforms increasingly deliver these analytics you need to view
Conclusion
Online marketing is now increasingly geared towards video, so you shouldn't miss it. Using videos can help you stand out from your competitors, reach a new audience, and increase your sales.
Use them to educate your customers and clients while providing a valuable service above and beyond your core mission.
As always if you need help with your video marketing or digital marketing strategy, get in touch.