An effective way to develop a successful digital campaign is to look at a digital marketing case study. The results Webbuzz achieved for Heartland Seniors Finance offer an interesting comparison between traditional advertising channels and the (relatively new) digital marketing services channels – especially for those interested in financial services or seniors marketing case studies.
Who is Heartland?
Launched in 2004 as 'Australian Seniors Finance' (ASF), the company was purchased in 2014 by New Zealand company 'Heartland Bank', thus becoming Heartland Seniors Finance (HSF).
HSF is an Australia's leading provider of reverse mortgages, a financial product that enables seniors to release equity in their property to help them live better in retirement.
In late 2015, HSF engaged digital agency Webbuzz and in January 2016 we launched their digital marketing strategy.
Prior to that, their marketing campaigns were comprised of traditional marketing channels such as TV, magazines, and radio.
"Unfortunately, it wasn't delivering the results expected."
said Andrew Ford, Heartland's CEO.
The challenge they faced
Heartland are a unique business, but they came to Webbuzz with some fairly common digital marketing challenges. They knew WHO their target customers were, but it was less clear:
What messages would most resonate
Where best to advertise online
Which digital advertising platforms were most suitable
How to design and implement effective campaigns for this target customer
When to run advertising for this cohort
Why digital marketing was the best channel to grow this business
Their main digital marketing objectives
Before starting any new project we take a complete snapshot of the client's current situation. We review competitors, current marketing spend, successes, failures and listen to what the client wants to achieve. Any digital strategy must revolve around the client's KPIs. If they don't know what they are, we collaborate with the client to establish them.
In this case the digital marketing objectives were:
More website traffic
Brand awareness
A strategy to trap enquiry on the website
Establish a lead generation infrastructure
Better website user experience (UX)
New content to aid SEO campaign
Landing pages for Google Adwords (PPC) and Facebook campaigns
Boosting conversion rate from lead to sale
Digital strategy and execution
1) Website design improvements
Before anything else, we needed to improve the website design and UX. Without a high performing and user friendly website, any efforts to obtain traffic and leads can be wasted. So, the first challenge was clearly to check the website was going to convert in the first place.
The organic traffic to the site was extremely low at the time of our engagement. The main reason was zero SEO strategy or keyword research. Focusing on the homepage, the content was placed randomly and without apparent purpose or reference to user needs.
Here's how the site looked when we took over: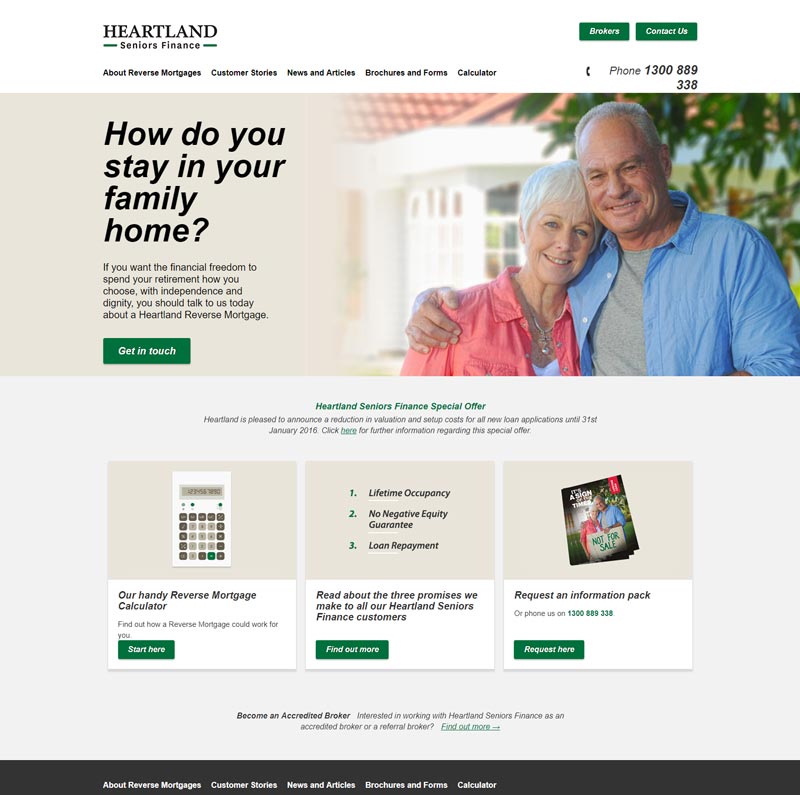 The first challenge was to align the website's content around solving user problems.  We knew successfully completing this objective alone would help both the website SEO and any paid traffic campaigns, thus allowing us to simultaneously satisfy some of our other objectives. At the time (late 2015) the SEO community was alive with talk about Google including user behavioural signals in its search ranking algorithm. It was speculated among other things that by assisting the user to go deep into your site and not 'bounce' or 'pogo-stick' back to the search results, your website's rank would benefit.
What are the 'user problems' that a reverse mortgage solves?
All of them relate to money of course and there were specific reasons seniors needed the extra cash:
To improve income and cashflow
To consolidate debt
To make home improvements
To buy a car
To travel or go on holiday
To get an elderly parent into aged care
We combined these ideas with UX improvements focused on these reasons. We developed a drop-down widget on the homepage which led to optimised landing pages, each focusing on one of the reasons for taking out a reverse mortgage.
Here's the drop-down widget:
Here are the headers of two of the landing pages:
The eBook 'lead magnet' is the same for each page, but the reasons for needing the further information contained in the eBook are specific to the user needs.
Apart from the UX improvements to the site and the clear benefits of focusing on solving user problems (rather than talking about 'product' or 'interest rate' for example) there were other benefits to this approach, and specifically the creation of these focused landing pages:
They made targeting paid traffic and keyword research efforts easier and more obvious
They made messaging opportunities on display advertising easier and more obvious
They doubled as optimised SEO pages because the 'long-tail' keyword traffic was relatively easy to acquire
2) Website Traffic improvements
Now that the website strategy was in place we could begin driving targeted traffic to the site through paid, social and organic channels. We used:
Google (organic) via Search Engine Optimisation (SEO)
Google Adwords campaign (paid), direct to landing pages
Facebook Ads campaign (paid), direct to landing pages
Email marketing campaigns – for direct traffic
Social media marketing
Video marketing – for brand awareness
3) Boosting conversion from lead to sale
This is actually a huge problem facing most marketing agencies and small to medium-sized businesses. When supplied with a lead source that isn't a referral or recommendation from a trusted source (ie. friends and family), and especially if the lead is generated online, many businesses can struggle to convert them to sale. Rightly or wrongly, the marketing agency supplying the leads can often be blamed in this scenario.
In our experience lead quality is the main differentiator here; anyone can harvest a vague enquiry from Facebook, but only a well researched and focused digital marketing strategy can produce the type of content and 'believability' that leads to a quality enquiry, sometimes known as a 'hot lead'.
Heartland made some changes to their in-house sales team and systems in consultation with Webbuzz to make sure they were converting as many of these online leads as possible.
Digital Marketing Case Study – Results
Positive results for the business were soon evident, just 3 months after starting the campaign.
873% uplift in organic website visits
13% more organic visibility
20% uplift in unique visitors
37 total number of search terms on Google page 1 (vs 16)
This has led to an increase in users (more than 17%) as well as the quantum of leads generated.

Web analytics to measure ROI
The full year analysis has mirrored the initial 3 months for HSF. Leading performance indicators from the website such as visits, new visitors, and returning visitors continue to trend upward as we'll see shortly in the following graphs from this digital marketing case study.
This has led to a substantial increase in both leads generated, plus improvements in lead quality. Here are some stats for the first few months of the campaign.
29.5% increase in page views
25.38% increase in new visitors
81.2% increase in returning visitors
71.95% increase in guide downloads (leads)
19.94% increase in conversion rate
And here are some charts over a wider period.
Here's visitors split into new and returning.
For the second year running HSF has been nominated for the Australian Mortgage Awards' "Most Effective Online Presence – Lender" award.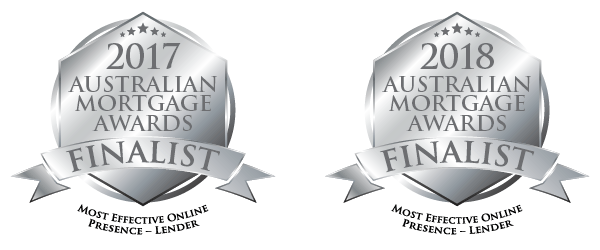 We're really proud of our partnership with Heartland and the results we've helped them achieve. If you're seeking a digital marketing campaign for your business, give us a call on 1300 41 00 81.