Get Seen on YouTube & Google.
Get our pricing template and work out your video SEO costs in Australia →
GET IN TOUCH
Engage a Google partner Video SEO firm
SOME PLATFORMS WE WORK WITH




Why You Need a Video SEO Company
Video SEO is the fastest growing form of marketing for Australian SEO companies.
You may not realise it, but the internet is quickly moving from 'text' to 'video'. By 2021, information being consumed as video content is projected to exceed 80 per cent of all website traffic.
The rise of the smartphone is changing how people consume online content. Australians are now spending 5 hours and 34 minutes every day online, and the majority of this time is on mobile. Video content is simply more 'smartphone-friendly' than text.
The implications of this are vast. But two conclusions are clear:
Your website needs more video content
To win In the 'age of video' you need a local video SEO strategy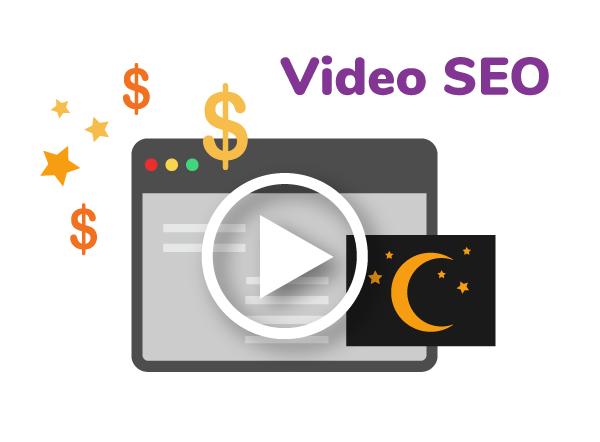 'Video' is a Huge Google Search Opportunity
FACT: In 2018, Google made a series of huge algorithm changes that prioritised 'educational' video content for many searches, and largely replaced video thumbnails with 'carousels' in the SERPs.
Forrester Research found that a web page with video is now 50 times more likely to appear on the first page of the Google SERPs than a traditional text-only web page!
That's a huge, yet largely untapped, Google search marketing opportunity for your business.
Webbuzz have developed a range of innovative video SEO strategies that can get your business videos on page 1 of the Google SERPs. In particular, we help businesses in Sydney, Melbourne, Brisbane, or anywhere across Australia appear in the Google 'video carousel' – a rare opportunity indeed.
First-movers and early adopters of the video channel are better positioned to win the video game. Success loves speed, so to skyrocket your video SEO partner with a video SEO agency such as WebBuzz.
Video SEO, also known as 'vSEO', is the process of enhancing the visibility or search ranking of a branded video in Google or video search engines such as YouTube.

The goal of Video SEO is to make sure that your videos will appear on the first page of the search engine results page (SERPs).

Some people think that uploading a short video on your own YouTube channel and waiting for people to watch it is enough. That approach doesn't work anymore, if it ever did. With more than 7 billion videos on YouTube, more effort and thought is required if your video is not to be lost in the digital ocean of video content.

WebBuzz has a team of video SEO specialists and YouTube SEO experts who can guide you throughout the entire process.

When do you need a Video SEO company?

If your website already has lots of video content, or you're convinced about the rising importance of video marketing for your business and you want to do something about it, then you should talk to a Video SEO company.

Below are more specific signs that it's time to partner with a Video SEO company in Australia:

Your existing video content is not yet optimised for Google search.
You don't have any video SEO experts on your marketing team.
You begin to notice competitors posting branded videos on Google & Youtube.
Your existing SEO marketing agency is not enthusiastic about the opportunity to increase web traffic with video.

To learn how video SEO works, it pays to first understand the primary objective of search engines: to serve up content for users that best satisfies their search query.

So, the first prerequisite for good video SEO is to create video content that your viewers find genuinely 'useful'. The longer watch times and higher viewer engagement metrics arising from good content, send important U.X signals back to Google. Therefore, you should aim to construct your video content – as far possible – around existing search trends and keywords.

The second factor is 'meta data'. If your video is also optimised properly for search engines with a good page title and meta description it will be more readily found by your target customers.

Thirdly, where the video is first published on the internet is also important. If your original video content is published on your own website (and not on Youtube), then more of the full SEO value of the content can be realised for the business.

Link building and a range of other factors may also be important for your video SEO.

A good video seo agency such as Webbuzz can help you with all of these aspects, and more
We engaged Webbuzz for digital marketing strategy, content, lead generation, analytics, and conversion optimisation. Their work is consistently excellent, and has already moved the dial for us in a big way.

Antoinette Tyrrell

CCO - Retirement Essentials
I've really enjoyed working with Webbuzz, it's a genuine partnership, they understand our business, they understand our customers, they understand what we are trying to achieve.

Andrew Ford

CEO - Heartland Seniors Finance
After working with Webbuzz, I'm a total convert to the power of online marketing. We now have a website that's an exciting new sales channel for our business. In just a few months it's attracted hundreds of leads and is already adding to sales and revenue

Andrew Tynan

Tynan Financial Planners
Three months ago, all we had was an idea to focus our business on aged care. Now thanks to Webbuzz we have a new brand, a website that's generated 160 leads so far, and revenue in the bank. I'm blown away.

Phil Reid

Sydney Aged Care Financial Advisers
WebBuzz is awesome! They created the website for my new business and I love it. Ben and Darren really know their stuff, they made the whole process super easy and delivered an exceptional website.

Melissa Charnock

Luxe Financial