E
veryone loves a 'David vs Goliath' story. You know, small up-start takes on the big bad giant and triumphs in an unlikely victory?
Well this just might be the best 'David & Goliath' marketing story you'll hear for a while.
We took on major Australian banks and used the internet to beat them! This story will interest any small business owner looking for more online lead generation and sales – the principles can be applied to any industry. But it will particularly interest those working in financial services and mortgage broking in Australia, such as financial planners, advisers, and finance brokers. I'm about to share with you how my digital marketing agency beat bank SEO on Google.  
First, a little background. Although I'm better known in the digital world as the founder of this Sydney SEO agency Webbuzz, the first business I started in 2006 is Seniors First. This is mortgage broker business that still operates today. About six months ago, I decided to run an experiment and apply the online marketing strategies we have developed for Webbuzz clients to my Seniors First business. The results have amazed even me. I'll get to those in a minute, but first here's how we did it  – all the key steps you need for digital marketing success:
1. Professional web design
The website for Seniors First had not been upgraded since it was first launched in 2006, so it looked dated and the conversion funnels for lead generation were poor. (Since 2011 I had noticed a gradual decline in traffic but had just been too busy to do anything about, but in 2013 organic traffic and lead enquiry dropped sharply due to some Google algorthim changes that probably penalised the lack of fresh content) So we created a brand new site map, updated the logo and implemented the latest and best professional web design practises. Importantly, we converted to a WordPress CMS for its proven SEO benefits.
Here's the 'before' shot…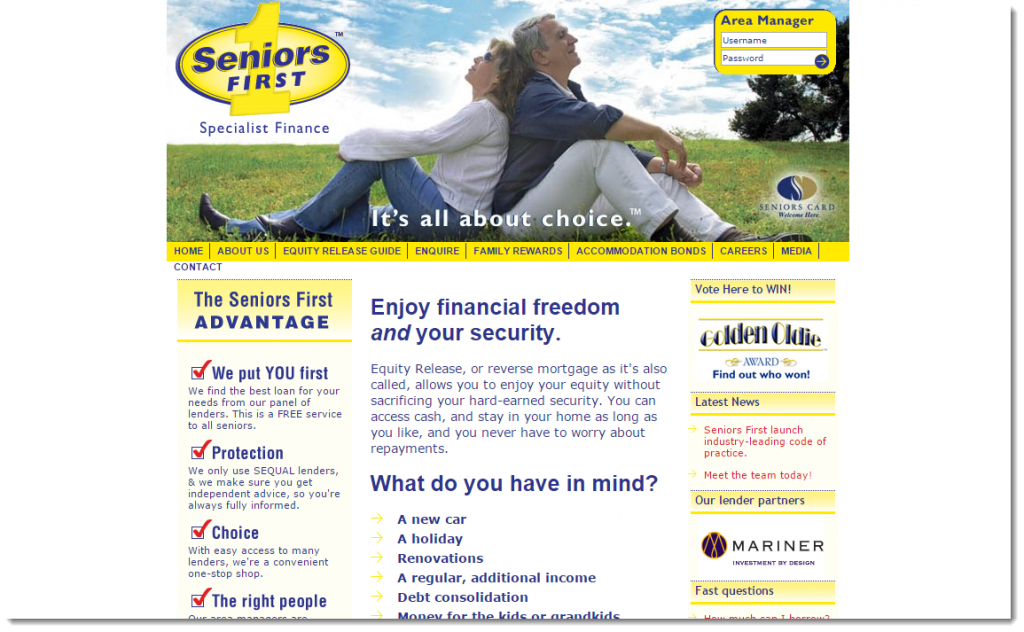 And the 'after' shot…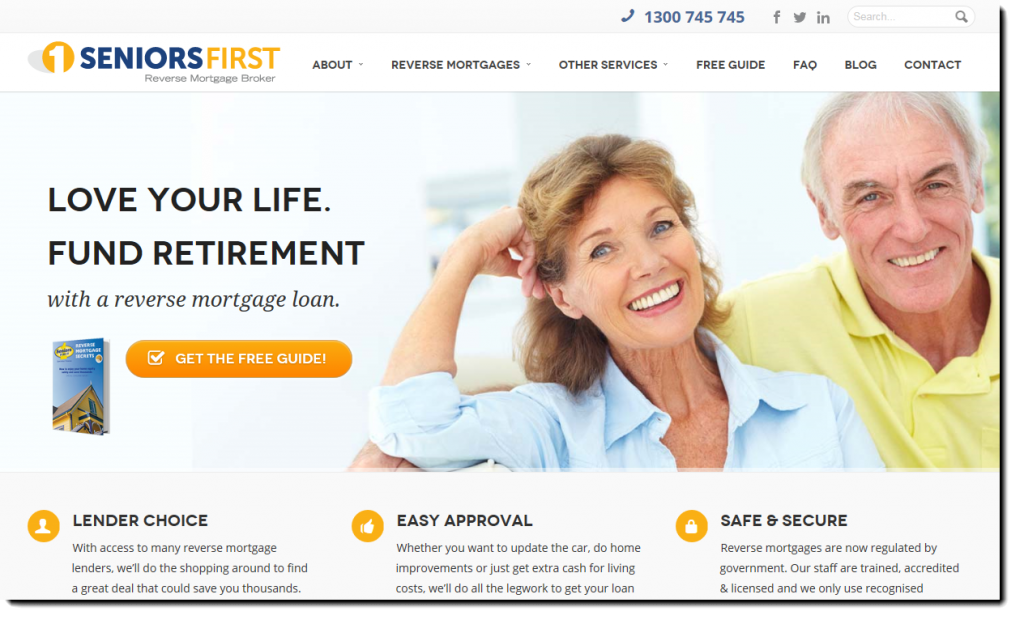 2. Great web content
Next we wrote 20 pages of high quality, original web copy dense in relevant keywords and rich with useful information that the target market search for. We then curated highly appealing images that that again were super relevant for the target market. The objective here is simple: provide useful content that people want.
3. 'Mobile-friendly' website
In the actual building of the website,  we used a WordPress theme that is 'dynamic' so that it automatically adjusts the page content for the device being used by the browser. This makes the site 'mobile friendly'; it gives us a significant user experience (UX) advantage on smartphones and tablets that improves retention & conversion. Also in the eyes of search engines such as Google, being mobile friendly means our site is now prioritised in mobile search results over competitors with old, non-mobile friendly websites.  Bottom line: more traffic, which stays longer on the site and is more likely to convert into an enquiry or lead.
4. 'On site' search engine optimisation (SEO)
Although all the previous steps are necessary to achieve an exceptional SEO result, this is the first formal step of search engine optimisation. To begin, we developed a keyword list for the Seniors First business using tools such as Keyword Planner & Keyword Tool. We then wrote page titles & descriptions based on the keyword list & the structured content of each page. Many of the page titles were based on 'long tail' search terms around reverse mortgages that already enjoyed substantial search volumes, such as 'how reverse mortgages work' – here's the page we created just for this search
5. 'Free eBook' & online lead capture
It's one thing to have a great looking website but if it is not effective in converting web traffic into leads for the business then you may as well pack up and go home. In this case we already had a good free eBook download, but we needed a better 'lead capture' page where people could easily enter their details to get the guide quickly. So we built this page and integrated it with Zoho CRM to record and manage all online leads.
6. 'Offsite' search engine optimisation
The final step in the process. Here we are building backlinks to the site using a 'white hat' SEO strategy to send a signal to Google that the site is popular and has authority. Based on many links back to the website from external web properties such as social media and directory sites, Google then began to send us more and more traffic until we get very, very busy!
Results:
Before I get to results, I should point out that prior to implementation of this online growth strategy the Seniors First site was NOT appearing on page 1 of Google for any key searches. Indeed for most key search terms the site was back on page 2 or 3. Also, the search term 'reverse mortgage' is a generic keyword for the product and industry that is highly valuable. It is much harder to rank for terms like this, as opposed to 'long tail' search terms eg; 'reverse mortgage broker Sydney'. OK, so here we go…
In just 7 months our organic search traffic increased 3,600%! See the chart below showing our exponential rise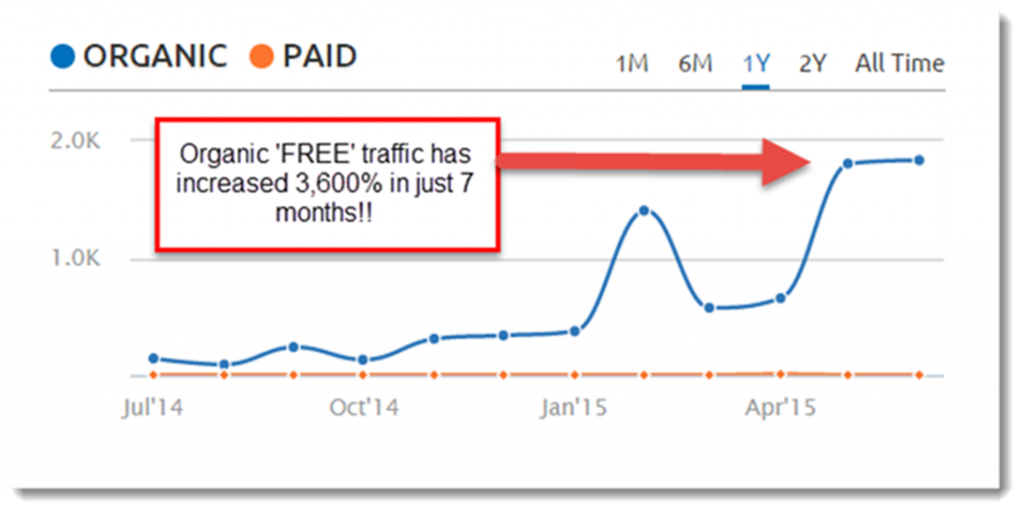 We are page 1, position 1 of Google for 'reverse mortgage lenders' (390 mthly volume)
We are now on page 1 of Google, position 4 for generic 'reverse mortgage' search term (2,400 mthly volume)
We are now on page 1 of Google, position 5  for generic 'reverse mortgage' search term  (2,400 mthly volume)
Yes, we have TWO listings and enjoy 20% of page 1 for the dominant search term in our niche. Better yet…
We now rank higher than CBA, St George, and Mortgage Choice for the key reverse mortgage term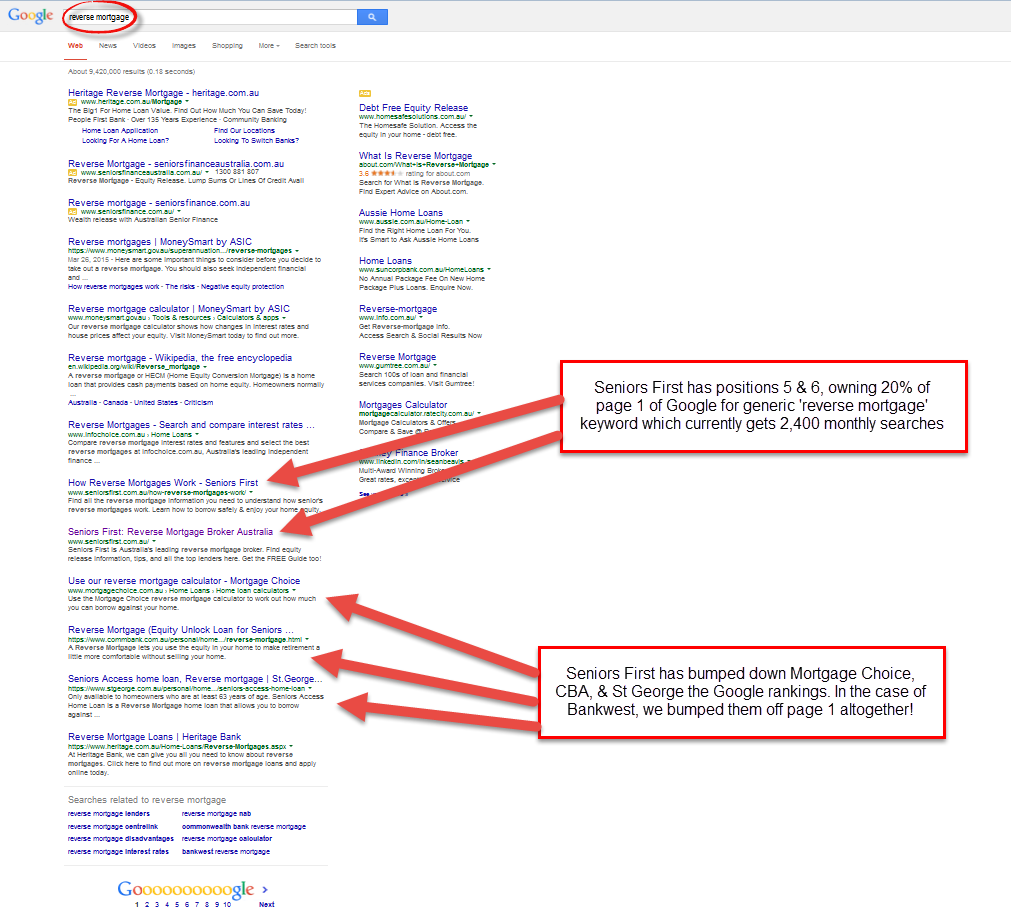 And we even bumped off another major bank entirely from page 1 of Google for this search! (Google yourself and go to page 2 to find out which bank)
Takeouts for your business:
It is possible to beat much larger competitors online, but you need a sound strategy with good execution.
Webbuzz SEO can achieve amazing results for your business too. This strategy will work for most industry types.
For best effect you need to target a niche in your industry based on product/service/location
Everything in online marketing is inter-related eg; it is hard to get good SEO results with a poorly designed site
You need to ensure a good lead capture mechanism to capitalise on increasing web traffic flows from successful SEO campaigns
I hope you have found this to be useful for your business. Feel free to ask any questions in comments.
Cheers, Darren