The Webbuzz' team have decided that 2018 is the right time for some BIG branding changes. Our website is currently going through a massive creative process for a total overhaul, and so is our logo.
New year, new website, new logo.
So we thought we'd share our own journey towards a new business logo design as an example of our process for brand development we use with clients.
Any business logo's design is really important; it should reflect the company's personality.
It's normally one of the first impression users have of your business, and what makes everyone recognise your brand.
Your logo – to a large extent- is your business identity.

Our old one was great to start with, but after 4 years, seeing how the company has evolved and how the market has changed, it was time for an update.
We needed a "Webbuzz 2.0 logo".
The creative process of a business logo design
First of all, be mindful that business logo design is a whole creative process – it's not just like any other graphic. Logo designs usually take longer and get tricky due to the importance of it to the business.
You have to ensure it reflects to your customers what you want to communicate about your company.
During the business logo's design and creative process, we followed different steps to make sure we were covering all important aspects, trying to capture key ideas and possible angles to get the results we were aiming for.
Research & brainstorm
When you start the design of any logo, no matter the company type is important to do a quick market research.
This will help you understand what's on out there as well as give you ideas and an understanding of trends and contemporary styles.
There are general yet important questions you should ask yourself while thinking about how to start the new logo such as:
Who's your audience?
What do you want to say to your audience?
What's your business' style?
What are your values and how you want to reflect them?
What makes you stand out from your competitors?
Sketch
Once you have few notes answering all the above questions, next step is to start sketching.
This part of the creative process is where you start defining those ideas into a graphic.
It is important to be mindful of what kind of design will suit your business best.
For example, if you are looking for a more corporate and formal style, or with technological vibes, modern or classic, with movement, bolded, maybe with a 3D finish, etc.
The main elements you'll need to think about in a logo's design are:
Typography
Colours: monochrome, multicoloured, with or without gradient
Size
Slogan or not slogan
Other elements: shadows, side graphics.
Design
In our particular case, for our business logo design, we aimed to transmit professionalism but keeping the cool aspect of who we are.
We wanted to show that we are trendsetters and tech savvy.
We were thinking about something catchy yet smart, visual but not too crowded.
You should know that, in any creative process, is almost impossible to get it right on the first attempt. We designed several logos with different approaches.
Like any artistic work, it wasn't easy.
We started with a bit of a conservative vibe.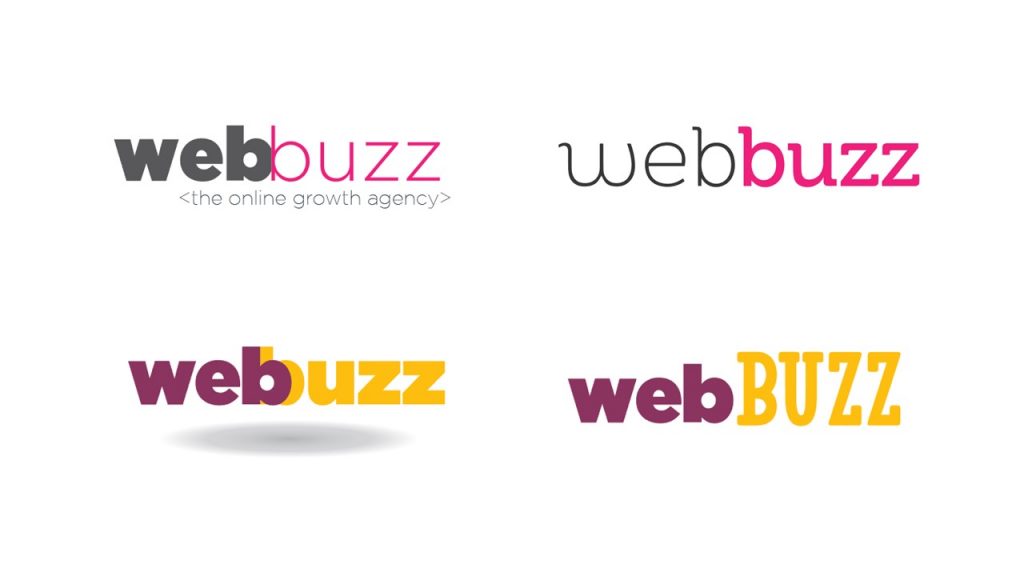 Little by little, we were getting more enthusiastic and we wanted to stand out.
The creative team went through different typefaces until settling on a contemporary and creative digital agency style design.
The colour scheme required a lot of thoughts until we got a powerful colour combination with a modern and dynamic gradient.
On the other hand, we were looking for an approachable vibe and slight look to the future. Here is when we decided to add a small side element like the little hand with the finger simulating scrolling on a screen.
Survey time
The key nowadays is to test. You need to try and try until you get the results you were looking for.
In close consultation with the whole team, these four ones where our winners.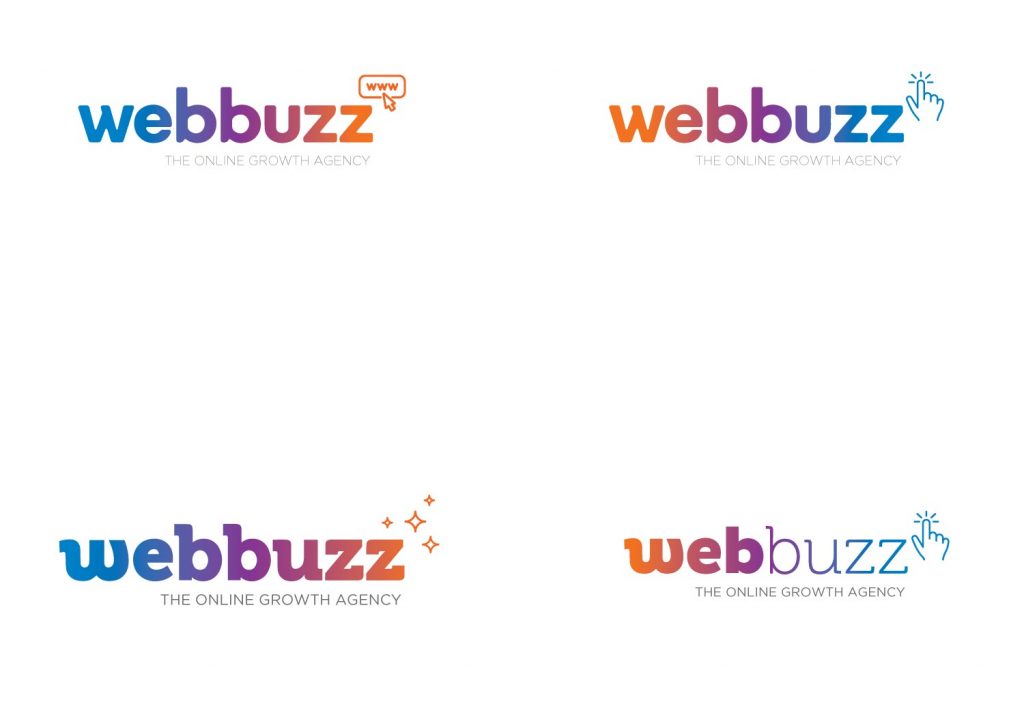 Once we had our faves selected, we decided to create a survey with Typeform. Easy to create, good interface, you just need the logos, few questions and you are good to go.
These were our questions:
Which logo design do you like the best?
Why do you prefer the selected design?
What words come to your mind when you look at the design?
What do you like most about the design?
Is there anything you don't like about the design?
After creating your survey, you get a link that you can share with others and so did we.
The main goal was to have the users' feedback, preferably users from a different professional background.
It is really positive to have others' point of view, you normally receive different ideas that you might not have thought about while working on your business logo design.
Also, it is interesting to see their opinions, the acceptance of your designs and what they would improve, delete or change.
Comments can be very useful.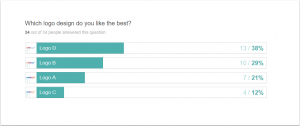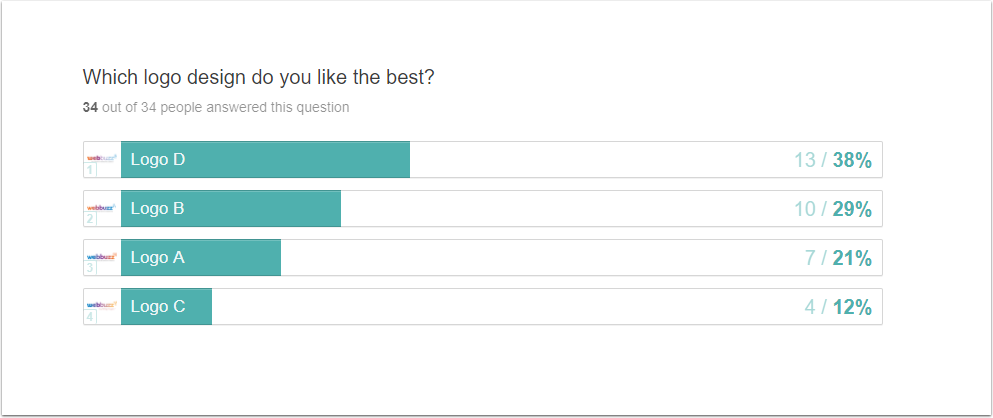 Depending on the results, if the winner is the one you had in mind, the outcome is really comforting. But, if it's the one you liked the least can be a bit disappointing, but these people could be your future consumers so is worth giving that a shot.
In our case, the winner was our favourite, which was really reassuring and a pleasant surprise.

Last step: Test
Next step, and really important, is to put in context the winner logo. Add it to your email signature, your website or any presentation to see how it looks not by itself.
It makes a huge difference seeing the business logo design on an isolated blank page or in context with other elements.
In conclusion, as you could read, the creative process of a brand's logo design is not easy but is entertaining and inspiring.