O
n June 26
th
, Google made an announcement that kind of rocked the online world: they are dropping author profile photos and circle counts in mobile and desktop search results!
Why? Through John Mueller's announcement, he said that this is a part of the major clean up they have been doing lately to provide a "better mobile experience."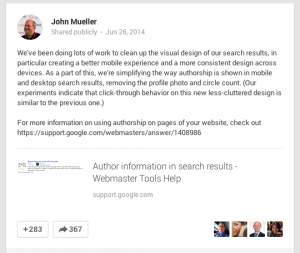 They got rid of the author photos and Google+ circle counts in Search Engine Result Page (SERP), apparently to provide a cleaner interface and a less-cluttered experience for users, especially on mobile. What exactly does this mean? Well, instead of showing the byline, author photo, and circle count; only the byline appears in Google Web Search now:

However, they decided to retain author photos in Google News:

How does this affect you?
If you're a content marketer – or you employ an agency to do it for your business –  it makes your job harder. Authorship photos in the SERPs were an easy way to stand out from the crowd and get better click through on your blog or web content. This is advantage will now be lost.
Unsurprisingly, since the announcement lots of online marketing folk have been most upset! Though Google clearly said that this hardly affects click-through rates (CTR), authors argue that removing their photos has major impact on their CTR. Here's what one author thinks about it:

There has been some interesting debate going online and they argue that it seems strange for Google to say that CTR won't be affected while independent studies show that author photos have a clear impact. Anyway, we'll see. It has been a month or two since the removal of author photos and it won't take long to see the real deal here. Does it really affect CTR? Have most blogs, websites, and small businesses experienced a sudden decline on their click-through rates?
As opposed to some speculation that this has something to do with Google+ and how Google is trying to get rid of it slowly, John Mueller said that it is far from that:

Authorship still remains, and the process for establishing authorship is still the same (though some may find a little incentive to do so, now that they removed the author photos). Although Google appears to be not even bothered, many content marketers will gnashing teeth and devising alternative strategies for lifting SERP conversion. In the end, the Google mobile users want it simple and clean so Google has killed author photos so they will get that. With 50 percent + of search now on mobile, there is logic to this.
"This is a long haul project folks. Don't head for the lifeboats every time Google makes a change." – – Mark Traphagen
While there may or may not be a bigger motive behind this, who can tell what really Google has in mind? For now, what we know is bye-bye author photos and hello cleaner SERP! On the positive side, authors will now have an equal chance on SERP and CTR will all be content-based.
Take outs for your business?
As an author, you must focus on generating a more engaging content if you don't want a drop on your CTR. Better page titles & meta descriptions are probably your only recourse at this point. The game is changing and the search users & consumers are the winners on this one. If you produce high-quality content, with super engaging titles there is probably nothing to worry about
Cheers, Darren