After reading the scoop from Bloomberg about Google Rank Brain, learning more about it in-depth from expert opinions, and reflecting on how we can use this for our clients I think it's time for me to explore it further. A major update from Google is a serious matter for an SEO company, so understanding how it works and its effect on SEO is key to providing the best SEO services and strategies for our clients.
So let's take a closer look into Google RankBrain and understand how it could affect your presence online.
Rank Brain: Google's "AI Machine"
Rank Brain is the new artificial intelligence (AI) of Google that is now processing more or less 15% of daily searches. The tech giant confirms that this rollout is part of their goal of better understanding the ambiguous queries that their search engine receives every day.
But don't reach for your lifeboats yet! Rank Brain is not a major algorithm update like Panda and Penguin, which changed the face of search in 2012. This new AI system is not replacing the Hummingbird, which is the present algorithm of Google. Technically, RankBrain is just one of the many signals used to match the results to a search query. Google even cited RankBrain as the third most important signal. What are the top two signals? Google declined to answer that from the Bloomberg report, but we can guess that those two are links and quality of the content.
The AI of RankBrain comes in the form of vectors, which are readable by computers. If presented with ambiguous search, RankBrain will guess at the meaning of the query and filter results according to its guess.
So when will this AI system be implemented? Google confirms that it has gradually rolled out the system "several months ago". So most probably you have already experienced receiving search results guided by RankBrain. Below is a given example of a search query that demonstrates the power of this AI. Take a look at how Google responds to the search query "How tall is the tallest mountain in Australia".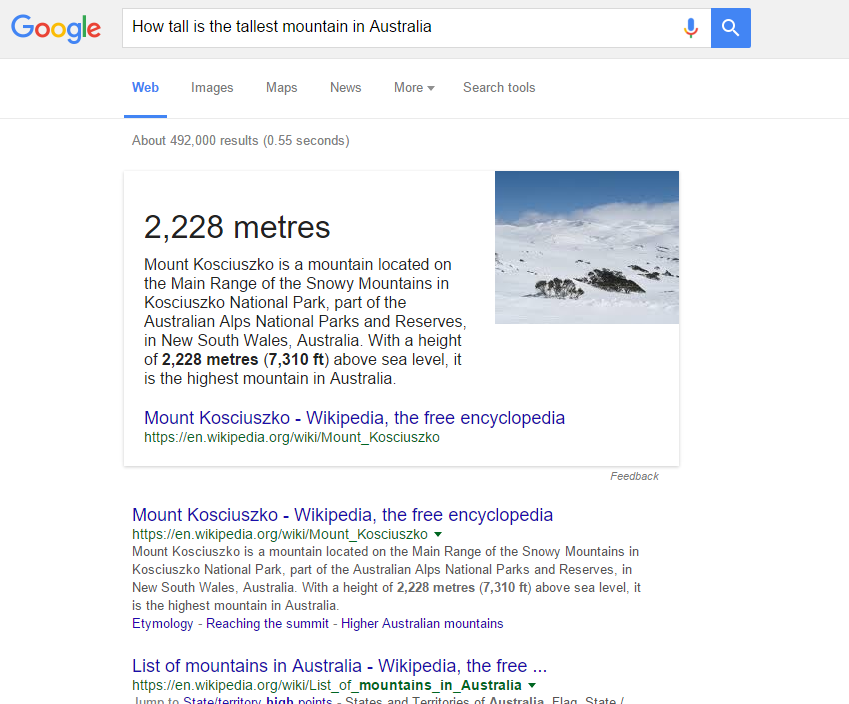 So by connecting the dots, Rank Brain guessed that the query is asking for the height of Mount Kosciuszko in NSW and automatically displayed the result as shown above.
How Does Rank Brain Affect Your Online Presence
Rank Brain matters to your online business because of the following reasons:
1. Content is Still King
If your website or blog is updated with fresh, high-quality, and relevant content, you will win the SEO game under the rules of Google Hummingbird. And with RankBrain, you can now have the chance to be more creative with your content by using word play and more natural language variations. The good thing is, you can eventually stop counting keyword density as well as awkward anchor text such as "financial advisor Sydney" or local SEO queries like "best coffee shop near me".
2. It Makes SEO Much Fairer
I am an expert when it comes to mortgage financing and it just so happens that I decided to use digital marketing to find leads for my business. Yes, I have attended Google Masterclass and I have become kind of an expert in SEO. I like the Hummingbird algorithm, because it can understand the suggested meaning of phrases and group of words (semantics), so SEO practitioners like me can use content as our competitive advantage against companies who are using their dollars to buy links to improve their page ranks. RankBrain leverages the power of semantics even more so relevancy and quality of content are more important than ever.
3. It Emphasizes the Significance of Microdata
Microdata such as HTML tags mark up your web content. It helps the search engines to better understand your content without the need to crawl the whole page. Microdata has found its significance with the Hummingbird algo, but RankBrain underscores its importance. Using h-tags for your page content will allow the search bots to crawl your page easier, so your ranking will be better.
4. Customer Testimonials Can Help You Find Leads
Actual people writing their testimonials or reviews use natural language that is similar to what actual people might also use for searching for specific product or review. For instance, in a review, a customer might say "I recently moved to Sydney so I can be closer with my mum. This firm offers a sound financial advice for seniors and their services are affordable". Now, this review, if posted online, could help a potential client who is looking for "affordable financial advice for elderly in Sydney."
Conclusion
While RankBrain is an important update from Google, there's no need to worry about your page rank, especially if you are playing the SEO game according to Hummingbird rules. RankBrain helps in refining search query so it can provide users with better results. In fact, if you have been providing content that is fresh and relevant, you have better chance to boost your rank and find customers online.
To leverage the power of RankBrain, be sure to do the following:
Continue providing high-quality, relevant, and fresh content
Use language variations in your content to take advantage of semantics
Continue using h-tags, and still include relevant keywords. Remember, SEO is not dead!
Include customer reviews in your website, and make certain that they are crawlable by search engine bots.
Cheers, Darren