Recently our local SEO services company Webbuzz have been noticing an interesting correlation between Google's local search results (3 pack) and the organic results when we optimise for certain keywords.
I am currently working on a series of pages that target the intent behind various searches by professionals for a new website, eg. "solicitor website design". We have a high converting landing page and no backlinks pointing to it, yet for all these page types (there are 3), we are ranking #1 for the organic result and #1 in the local 3 pack result!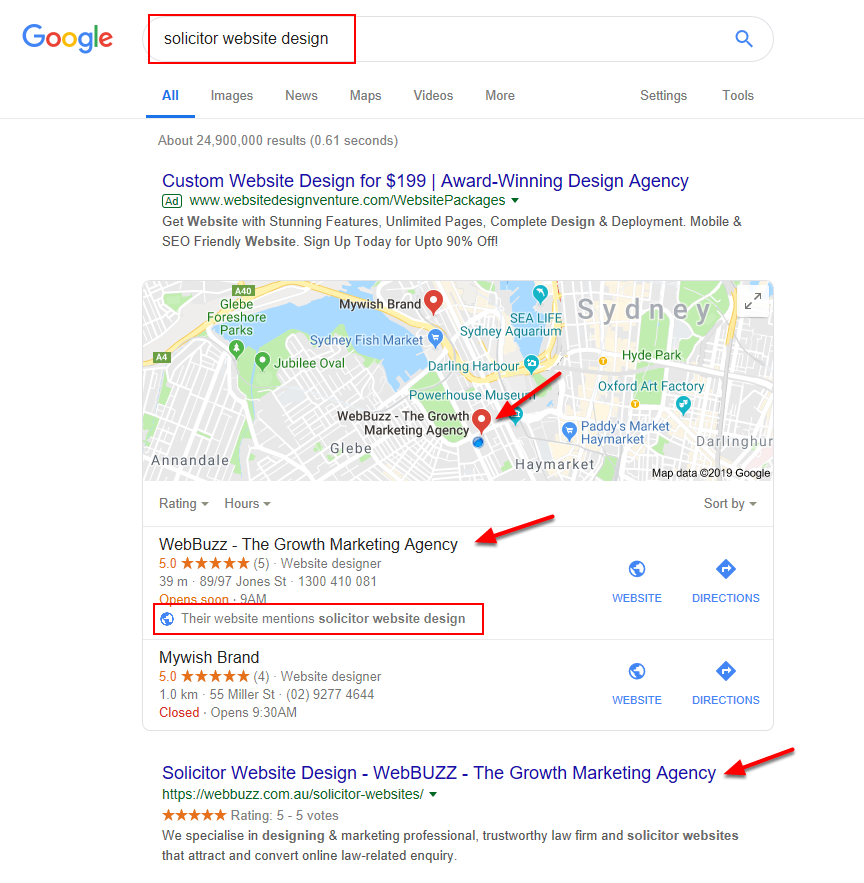 As you can see by the image above the amount of page #1 visibility afforded by this scenario is substantial . By way of clarification, these results are not personalised but depending on where you search the local pack results will always change. It's lucky we are close to the Sydney CBD 🙂
We believe this is the user experience (UX) part of the Google search algorithm at work, sometimes known as RankBrain. Because the landing page matches the keyword search intent perfectly, positive (UX) signals like 'time on page' and 'click through rate' (CTR) from the search results gradually lead to increases in the rank of the page for this query. The fact that backlinks to the page are not involved make this even more interesting because it means you can effectively trounce a very strong and old ranking signal with a new, more user experience focused one, potentially saving you a lot of time in your optimisation efforts.
What's more difficult? Creating a killer page and matching search intent for a query? Or doing email outreach to get links to your page from sites in your industry niche? (relevant links are the only ones that are going to make a difference these days)
Also note in the screenshot our local listing highlighting the search keyword we are using in our page title "solicitor website design". This is a relatively new development in the local listings which hint at how the Organic Search and Local algorithms might work together.
Hopefully this gives you some ideas for working with your own content while using Google's local results for some extra advantage.