H
ands up if you sometimes find running a small business completely exhausting? Well you haven't seen what
web marketing companies
 have to deal with!
It IS hard work, especially the launch phase. Very often the business owners & founders have to make limited resources and skill sets stretch across the same core functions that corporations have massive budgets and staff to cope with:
Operations
Human Resources
Sales
Finance + compliance
Marketing
Technology / I.T
But having worked with countless small business operators over the years in various capacities, I have a confession to make: sometimes business owners are their own worst enemy. I've seen different entrepreneurs make the same mistakes over and over again – especially in marketing. So to help stop this vicious cycle, here's my list of the Top 10 Small Business Marketing Mistakes You Must Avoid.
1. Hiring friends or relatives
You might think this is a staffing or HR mistake, but it's not – it's a marketing blunder. When you start a business – even a really small one – the culture you build will be a powerful sales and marketing tool. Ideally you will develop a 'way' of doing business that sets you apart from your rivals and becomes a serious competitive advantage (a good local example of this is Ramsay Health, and their 'Ramsay Way').
How can you hope to achieve this with family on the payroll? Your shared history and competing agendas will get in the way and destroy the best opportunity you have to create a new, powerfully unique culture. If you're thinking of hiring family & mates: DON'T DO IT.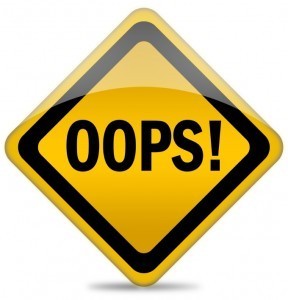 2. Putting your name in the brand
This is a classic error that is remarkably common. I am amazed by how many people put their name or initials in the brand – what a wasted opportunity! Your brand is a way for you to speak to your customers and engage them; a great business name shows your target customer that you understand them. Putting your name in the brand is usually meaningless, but there are exceptions.
For instance, in law, accounting, and professional services there is a strong tradition of using the names of the founders to create the brand. But even legal firms these days are getting creative with branding and using niche marketing strategies (different brands for different parts of their practice). It also makes sense to use your name in the brand if you have a significant profile in your market which has commercial and public relations value.
Otherwise, when an owner insists on putting their name in the brand it's usually about ego. And when it comes to brand identity, ego really IS a dirty word.
3. No vision or company mission
What do you stand for? Why does your business exist?
It's surprising how few businesses can articulate a clear mission statement. Some people will tell you that vision statements and the like are crap, but I disagree. A good mission statement sends a powerful message to both customers and staff that you really care. It also provides a useful 'anchor' for your marketing that will stop you going 'off-message'. If your business doesn't have a 'mission', and the closest thing you have to a 'vision' is a desire to make more money, then it is much harder to win customers and inspire people.
Whether you call it a mission statement, a vision,or a philosophy, a clear statement of intent is just good for business.
4. No marketing plan
Sounds obvious, but most small businesses do not have an active marketing plan. Sure, many start with good intentions and include at least a 'marketing section' in their original business plan, but too often it sits gathering dust once the business is launched. Ideally you should start each year with a fresh marketing plan, and it should be regularly consulted and updated throughout the trading year.
If you don't know where to start, the government even publishes some very useful FREE marketing templates
5. Poor database management
Do you collect email addresses and phone number of prospects? Great! So what do you do with that data – how do you turn it into more customers and revenue for the business?
An excel spreadsheet with an occasional mail out doesn't cut it these days. You at least need a customer database that is segmented and linked to an email marketing platform such as MailChimp or Vision6. The best SME's use leading edge Customer Relationship Management (CRM) platforms such as Salesforce or my favourite, Zoho. Poor database management will cost you lots of missed opportunities and money in the long run – it may also affect the future sale price of your business upon exit.
6. Bad copy writing
I hate bad copy writing – with a passion! Marketing is all about effective communication and selling a message, so if the text on your website or brochure is sloppy and riddled with errors it's a wasted sales opportunity. Worst still, it sends a dangerous signal to your prospects that either you are not capable, or that you don't care.
Great copy writing on the other hand can be a huge advantage, especially on such a text-based medium as the internet.  If you can't write well or you don't enjoy it, pay someone to do it for you – and reap the benefits.
7. Cheap SEO
Many SME's are now waking up to the huge opportunity that is search engine optimisation (SEO). For a pretty minor monthly spend, it's often possible to radically increase the visibility of your website on search engines such as Google. This results in more traffic and leads for your business. Happy days, but…
Unfortunately the internet is awash with charlatans and scam artists posing as 'SEO consultants'. It can be incredibly difficult to find a good SEO expert, and many business owners go for the cheap overseas option, with disastrous consequences. Not only do these 'SEO consultants' often not really know what they're doing, they can do immense damage to your business by building spammy backlinks that result in a penalty from Google!
TIP: use a local SEO company with a professional approach and a proven record of achievement. It might cost a bit more, but you will avoid 'SEO Hell'.
8. No digital or online strategy
In case you hadn't noticed, the internet is now both the biggest threat and opportunity for small and medium size business in Australia. Gone are the days when a brochure website was enough; your 'online assets' now need to become an active sales channel for your business.
Regardless of what industry you work in, you CAN attract and convert new customers via the internet – but ONLY with a coherent digital strategy. There are plenty of agencies out there now who can help, find one that specialises in your industry – you will be amazed by the results that are possible.
9. Bad website design
Design is a HUGELY important factor in the success or failure of any website. Good design will convert traffic into leads and paying customers for your business. Bad design will see them fleeing into the hills!
If your website has a '2009 look and feel ', you should consider investing in a re-design immediately – it's almost certainly affecting your credibility in the eyes of potential customers and costing you in lost business and revenue.
Don't worry though, even the giants of the internet have been known to get design wrong. Here's a very entertaining look at the original web designs of Twitter, Amazon & Facebook.
10. Giving up on social media
Did you try social media and give up a after a few weeks because it was too much effort for no return? This is a common refrain among small business owners, but a big, BIG mistake. Unless your business works in an extremely niche B2B market, your customers can almost certainly be found in very large numbers on social media.
It gets even better: social media is an 'amplifier' of your existing marketing messages. For little or no cost, you can make your marketing reach a wide audience though your customer and fan networks, but to be effective you need a social media strategy that works for your particular market.
So there you have it – my Top 10 Small Business Marketing Mistakes You Must Avoid. Have I missed any? Maybe you have others – feel free to share below!
Cheers, Darren