In recent years a lot has been written about how video is the next big marketing channel for business. Certainly sites like Youtube & Vimeo are proving more popular with businesses than ever before. And it's no wonder because video offers a unique and unrivaled opportunity to:
talk with your market directly
present a visual insight into who you are
demonstrate what you do
build a relationship of trust with potential customers
These days if you don't have a company video that promotes or explains what your business does, you're missing out on a huge opportunity. Did you know that Youtube is the next largest search engine, after Google?
I'm pleased to announce that Webbuzz now offer corporate video production for businesses in Sydney, Newcastle, Melbourne, Wollongong, Central Coast, Brisbane, and Adelaide. Our own web marketing services video gives you an idea of the style and production values that we are able to achieve with our team. You can have one too, for much less than you think!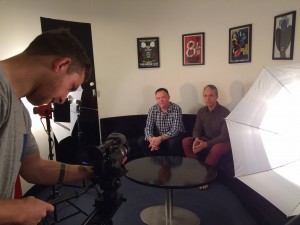 But guess what? Most 'corporate videos' are TERRIBLE! The internet (and especially Linkedin) is now over-flowing with business 'corporate videos' that look cheap and add no value for the public, customers or the business. Some even take this to deliberate extremes in order to get attention.
If you're thinking about a company video for your business, don't make your very own 'horror movie'. In this post,  Shoot Me! 10 Ways To Ruin Your Company's 'Corporate Video'  I share the  most common video production mistakes that companies make when producing their own 'corporate video':
No plan – what is the video supposed to achieve?
No script – 'winging it' on camera rarely works
Video shot on iPhone, not commercial standard camera
No professional lighting
No microphone, so sound is tinny
Poor editing
No music 
No call to action – what do you want the audience to do?
Too Long – people have short attention spans, keep it brief
And the big one…
10. No personality.
Yep. Most companies make the mistake of putting the video production through a 'committee process'. That might help in 'ticking boxes' and making sure everyone in the office is happy and that you don't offend anyone, but it also ensures that all the life is squeezed out of it. Result? You bore everyone to death.
Video is a brutal medium. People switch off FAST. Good marketers know this and try and mitigate it with outrageous or over-the-top-quirky content to keep viewers watching. For some brands, this can work but it requires flawless execution, otherwise it just looks naff. For many businesses – particularly in professional services – it can reflect poorly on the brand and do more damage than good.
Happily, there is a middle ground. You CAN  produce a memorable company video that is effective, but the key is to avoid being too 'corporate'. Keep the personality! Tell your story in such a way that communicates your brand values. Creativity – and a professional production team – are key.
If you want a quote for your company video, check out our other business, Viddo.
Cheers, Darren