Digital content production is at the core of online marketing.
It plays a critical role in your social media presence, email marketing campaigns, and overall SEO strategy.
No wonder, we still hear the "content is king" battle cry because it is true.
High-quality content can drive traffic, increase lead conversions, and can do wonders in growing a business.
More businesses now realise the direct benefits of high-quality content for their branding, marketing, and sales.
And check this out:
Digital content production is expected to be a 300 billion dollar industry!!

Meanwhile, a recent study conducted by Content Marketing Institute reveals that 86% of B2C organisations and 91% of B2B organisations are using strategically digital content production.
And most of these companies are increasing their budgets each year.
But before you even allocate a budget for your digital content production, you should first work on your strategy.
Sure, digital content production can work but you need to do it right.
It is crucial to have a solid content strategy.
You will waste your resources and may even cost you your business if you fail to plan.
Why you need a customised digital content production strategy
Wouldn't it be easier to find a content strategy online or copy an existing strategy of a successful business?
We wish!
Unfortunately, most content strategies do not deliver results because they are not tailor-made for the business.
For a content strategy to work, it should be customised.
You can't just take somebody else's plan and follow it as is.
It won't work.
Content strategies should be dynamic and flexible.
They should be crafted depending on the circumstances of your business and should change accordingly.
This is where many business owners get this wrong.
They might come up with a good plan but they don't have a strategy that is suitable for the ever-changing needs of the business and their customers.
After reading this, you are one step ahead in mastering your content strategy so you can get real results from your efforts.
1. Understand Your Audience
Before producing any content, you should first get to know and really understand your audience.
Your content will be terrible if they don't resonate with your audience.
Harsh but true.
Case in point: Malaysia Airlines.
In 2014, the airline company had to deal with two flight tragedies.
But there was an obvious disconnect in their marketing team when they still released a contest in Australia that centered on people sending in their bucket lists – or a list that you make when you are ready to die.

It was a digital content production disaster, which could have been avoided with careful planning and sensitivity to the brand audience.
Regardless of the size of the business, you need to understand your audience at a deeper level.
You should know their pain, their dreams, and their insecurities by creating audience personas.
Audience personas are fictional people who represent various types of customers that you have.
Below is an example of a reader persona from ClearVoice: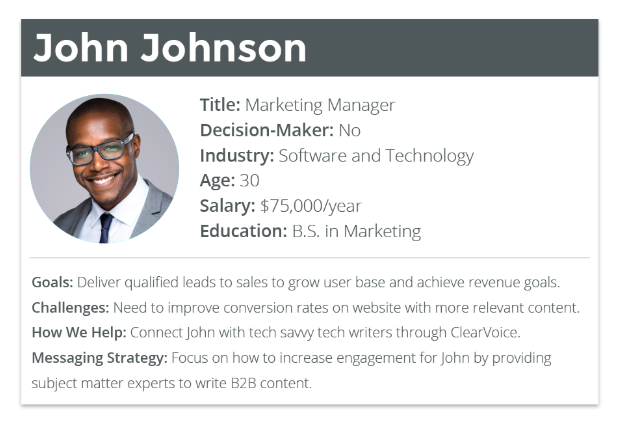 Initially, one reader persona is enough.
Then, later on, you can try to segment your audience as you learn more about them.
An ideal reader persona must answer the 5Ws and 1H: who, what, why, when, where, and how.
You can better understand your audience if you can answer these questions.
While marketing and sales data can help you understand your customers in general, reader personas can provide you insights into what your customers really want.
In creating your persona, you should try to include psychographics and demographics.
Demographics will provide you a clear identity of your customers (who) and the psychographics will provide you insights on customer behavior (why).
Both can be useful for various reasons.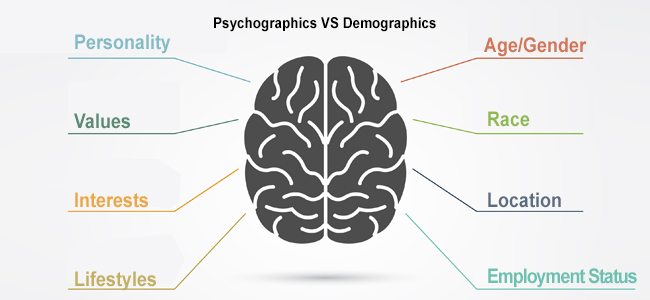 You can better shape your reader persona once you have gathered the necessary data.
You can answer the following questions to help you with this step:
Who is your average customer?
What are their desires?
What are their priorities?
What are their needs?
What do they like about your brand?
What they don't like about your brand?
Be as detailed as possible.
A more comprehensive reader persona will look like this: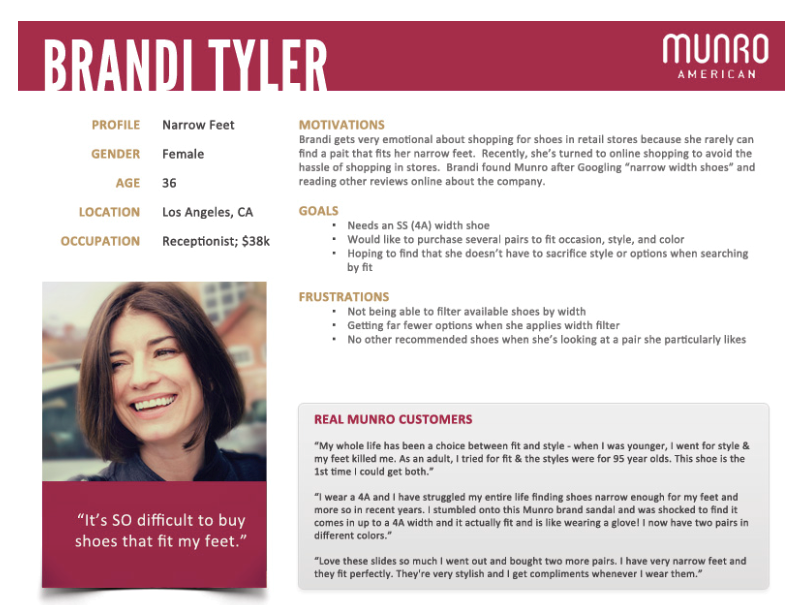 And don't forget to update your reader persona.
It should be a living document that you should change as you learn more insights about your customers.
2. Find Your Brand Voice
Below are two screenshots from two different articles.
One is from an early piece we published on WebBuzz Blog, while the other is from the Forbes website.
Try to guess which one is from WebBuzz.
Here is the first excerpt:

And here's the second excerpt:

If you guessed the second one, you're right!
That piece is from this blogpost in WebBuzz and the first excerpt is from this awesome article written by Scott Oldford.
If you picked the right excerpt, then you are familiar with the WebBuzz brand voice.
Scott's voice is great, but it's his brand voice, not ours.
Your brand voice plays a crucial part to make you stand out.
You'll find it difficult to connect with your audience if they can't recognise your brand voice.
But how can you develop your brand voice in the first place?
Go back to your persona.
Developing your brand voice will largely depend on the type of audience you have.
Take a look at the following samples of personas from Inalign and Iron Springs Design: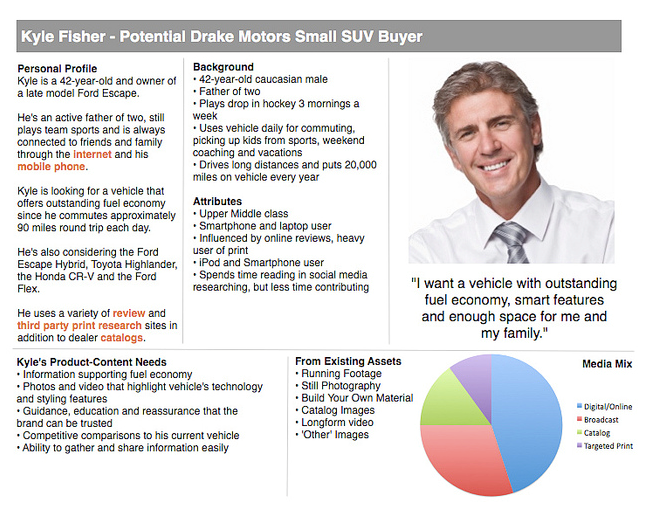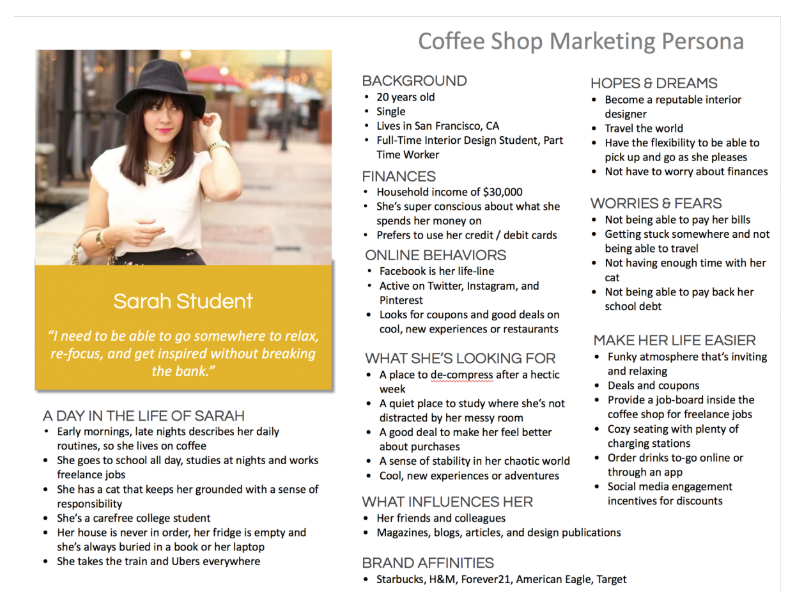 You need to develop two different types of content for these two personas.
Your opinion piece about fuel economy would resonate well with Kyle Fisher.
But Sarah Student would not be able to relate to it at all.
Similarly, Kyle Fisher wouldn't be interested in getting promo notifications from Forever21.
But Sarah Student would love it.
You need to develop a different brand voice for each persona.
Find your brand voice by understanding your audience.
Talk about topics that they are interested in and use the language style and tone that they are comfortable with.
3. Identify Specific Goals
Effective digital content production requires specific goals.
You need to clearly figure out what you need to do in the first place before you can expect results.
The following are the top organisational goals for digital content production:
Brand Awareness
Customer Retention / Loyalty
Lead Generation
Website Traffic
Thought Leadership
Sales
Lead Nurturing
But these are broad goals, which you should not settle with if you want to measure results.
You need specific goals that you can evaluate using metrics.
For example, let's say you want your content to bring new leads to your business.
So, your broad goal is lead generation.
But we can further specify this one.
You can do this through the SMART goal method.
SMART stands for:
Specific
Measurable
Attainable
Relevant
Time-framed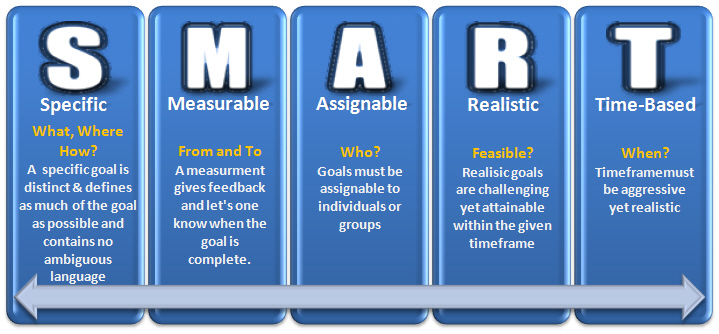 By using this classic method, you can develop goals that are specific and actionable that can clearly communicate with what you want to achieve.
So we can transform our broad goal of lead generation to this more specific goal:
"I want my ebook to bring in 50 leads each month."
This is clear and hits all the criteria in the SMART method, which makes it easy to measure.
4. Remember SEO
While you should always develop your content for your human audience, you should not ignore SEO.
Your content should be interesting for people first.
Then it should be friendly with search engines.
Without SEO, your audience may not discover your content.
And if you write for SEO purposes only, your content might look weird.
If you stuff keyword in your content, it may look like this:
This will be uninteresting because the sentence flow is not natural.
This is not good, and you should avoid this at all cost.
SEO should be part of your content strategy but it should not be the main ingredient.
The image below sums it up nicely: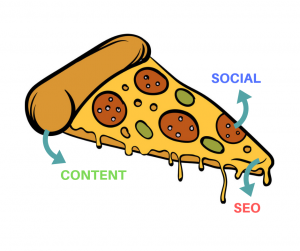 The dough (content) serves as the foundation that holds it all together.
So the cheese (SEO) will be in its right place and the right amount and added with pepperoni (socials) to attract the right audience.
This is the right approach for your on-page SEO.
Content should be your priority but don't forget SEO to make it palatable for search engines.
Measure the Results
You can only say that you have achieved your goals if you know the right way to measure the outcomes of your content strategy.
Remember to use specific metrics to check if your strategies are effective or not.
Your goals will determine which metrics you should use.
Marketing Profs identified the following metrics commonly used for digital content production: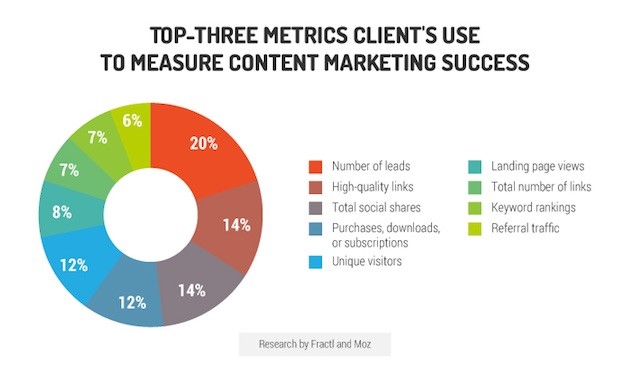 If you find it hard to evaluate the results of your content strategy, it's probably because you failed to specify your goals.
In this case, you should review your goals, and check if they are SMART.
Then see if you can measure the results you want to see.
The content strategy may take some time to work, so don't be too hard on yourself if you can't see results after a few weeks.
But as long as you have a solid strategy, you can be sure that more people will see and engage with your content.
That's all for now.
If you need help with your content strategy (from planning, execution, and evaluation) the WebBuzz team can help you.
Whatever your industry or product is, we can help you produce high-quality content that resonates well with your audience and optimised for search engines.